Posted by Gemma Chambers on 1st May 2019
Our Guide to Mixing One Shot Concentrates
---
What is a one shot concentrate?
One shot concentrates are pre-mixed concentrates designed to be easily mixed into an e-liquid. By using one shot concentrates instead of individual flavour concentrates, you take the costly trial and error out of mixing - All of our one shot products are tried and tested recipes and already available as retail-ready shortfills. Most one shot concentrates have a recommended mixing percentage on the label which gives additional guidance on how to mix up to the manufacturers intended finished product.
One shots are ideal for those who would like the expert craft of pre-mixed e-liquid with the reduced cost of DIY home mixing. They offer the ideal starting point for vapers who are new to e-liquid mixing as well as those who prefer pre-mixed juice.
How do I work out how much and which nicotine to buy?
Depending on your desired strength, you'll need to order a different number of nicotine shots. A good, quick way to work out what you need is to add 1x 18mg nicotine shot for 3mg of nicotine in 60ml. For example:
For 3mg, you'll need one 18mg nicotine in 60ml of e-liquid, 2x nicotine shots in 120ml and 3x nicotine shots in 180ml.

For 6mg, you'll need 2x 18mg nicotine shots in 60ml, 4x nicotine shots in 120ml and 6x nicotine shots in 180ml.

For 12mg, you'll need 4x 18mg nicotine shots in a 60ml bottle, 8x nicotine shots in a 120ml bottle and 12x nicotine shots in 180ml.
When purchasing nicotine shots, you'll notice we have 2 mixes of nicotine shot - 50/50 and max VG nicotine shots. Which type you'll need depends on what type of e-liquid you're wanting to mix up. If you're wanting to mix up a high VG e-liquid for sub-ohm tanks or RTAs, then the max VG nicotine shots will be best. If you're wanting to mix e-liquid for mouth-to-lung devices, it'll be better to use the 50/50 nicotine shots.
The easiest way to work out how much of each ingredient you need is to use an e-liquid mixing calculator. Here is a link to our favourite e-liquid calculator. Simply fill in all of the options and you'll be provided with an ingredient list at the end.

Amount to make - The finished amount of e-liquid you'd like to make
Desired nicotine strength - What strength you'd like your e-liquid
Desired PG/VG - For this example, we're using a high VG e-liquid
Nicotine Strength - This is the strength of the nicotine shots (Ours are 18mg)
PG/VG Content of nicotine - Max VG shots used in this example
Add Flavour - At the bottom you can add a flavour. Most one shot concentrates recommend to mix at 20% so I've added 1x flavour at 20% mix rate. Unless otherwise specified almost all concentrates are PG based.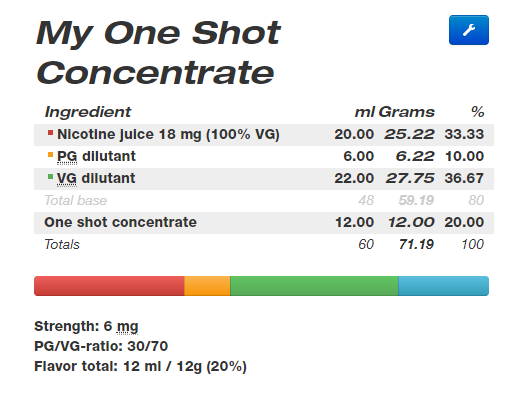 Below the calculator, we're now presented with how much of each ingredient is needed to make your e-liquid. It's easiest to start with the smallest amounts and work up to the highest, but it doesn't really matter what order you put them in the bottle.
One shot concentrates are commonly supplied in 30ml bottles, which can make it tricky to get the contents out of the bottle with a syringe. our tip is to pour some concentrate into a small vessel like a shot glass so it can be pulled into the syringe easier. Then it's just a case of measuring all your ingredients using the syringe and putting them into your e-liquid bottle. As you can see, in my recipe I need to include 20ml of nicotine, which is 2x 10ml nicotine shots.
Once all the ingredients are in the bottle, give it a really good shake for at least a minute. You'll see bubbles throughout when it's mixed.
Depending on what type of flavoured e-liquid you've mixed up, it may improve it to let it steep. Steeping is where e-liquid it left to settle and the components are given time to bind, which can improve the flavour. Although it's not necessary, and you can vape them straight away, the flavours will improve and develop in time. That said, if you like them straight away, vape on!
As a general rule, I use the below:

Mint and Menthol - Vape straight away but may improve overnight
Fruits - Vape them straight away but may benefit from steeping for up to a week
Creams and Bakeries - Generally steep for 3 weeks
Tobaccos - Ideally 4-6 weeks
Custards - Best when left for a couple months/6-8 weeks.

Steeping couldn't be easier. Simply leave it in a dark cupboard and forget about it!