Posted by Drew Thom on 3rd Apr 2019
Our review of Humble Pie e-liquids
We have been championing Humble Pie for some time now,but we thought it is long overdue for a proper introduction and flavour break down for all you lovely ladies and gents.
Humble Pies tag line is "for when life sucks" (give the person who came up with that tag line, the day off for genius marketing.) and it really does seem to make a bad day, a lot more bearable.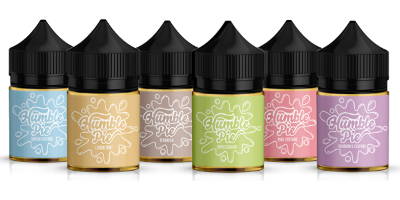 ---
There seem to be two main camps regarding flavour choices for a go to all-day vape.
You are either part of the fruity gang or a fully paid up member of the pudding posse.
The later seem to have the edge in regards to fan followings and can often be heard suggesting "you have to try it! " to any and everybody in close proximity, and their musings are usually about something custard based.
Humble Pie has lashing of custard throughout their range, but have seamlessly crossed the boundaries of fruit Vs desserts vapes, by smashing them both together, (I'm sure the process is a lot more complicated)
Humble Pie has six flavours to choose from, three are fruit based flavours and three are 100% desserts. We are going to take a look at the entire collection, and try and give some impartial flavour points.
---
First off, we are going to take a look at Humble Pies Pink Custard.
The Humble Pie gang are not embarrassed to admit that Pink Custard is a very happy mistake.
They were aiming for a fresh strawberries and home made custard, but what they got is almost identical to Angel Delight.
Pink custard has a lovely aroma, sweet strawberry, almost like a strawberry milkshake with a thick custard, (no idea how I can smell a consistency, but you can.)
You get a light fluffy, but fruity strawberry taste with a hint of of whats to come vanilla , on the Inhale, the strawberry is slightly more candy than real life.
The exhale has the remnants of the strawberry, but the custard really really comes through and lingers which left me wanting seconds.
---
Humble Pies Rhubarb and custard, was probably the one flavour from this collection that I wasn't really looking forward to testing...
But hush my mouth, it blew my mind, and might be a strong contender for the best in the bunch.
All of Humble Pies flavour names are straight forward, so there is no guess work or surprise when you pop a drop on your dripper,
(We've been using the the Drop Dead RDA for all of the taste tests for this review).
Rhubarb and Custard does exactly what it says on the tin.
The Rhurbarb is rounded, with the just the right amount of tart and sweet, but not so overly sweet you'll feel like you need a dentist appointment after a bottle.
The custard is noticeable from start to finish with this flavour, it is everywhere, in a good way, not too much or too little.
Humble Pie have nailed their custard, and this is apparent in most of the range, whether its on in the inhale or builds on the exhale,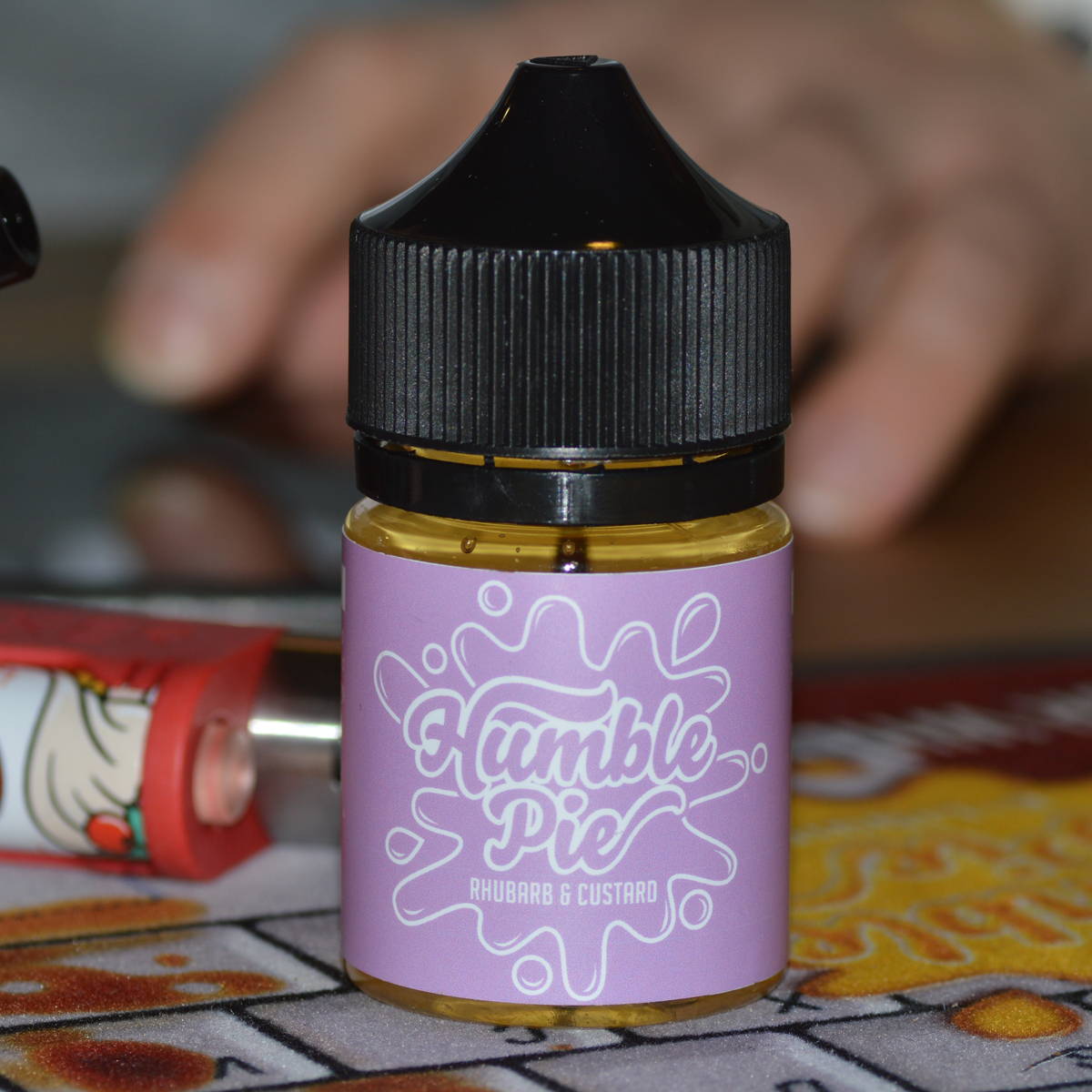 ---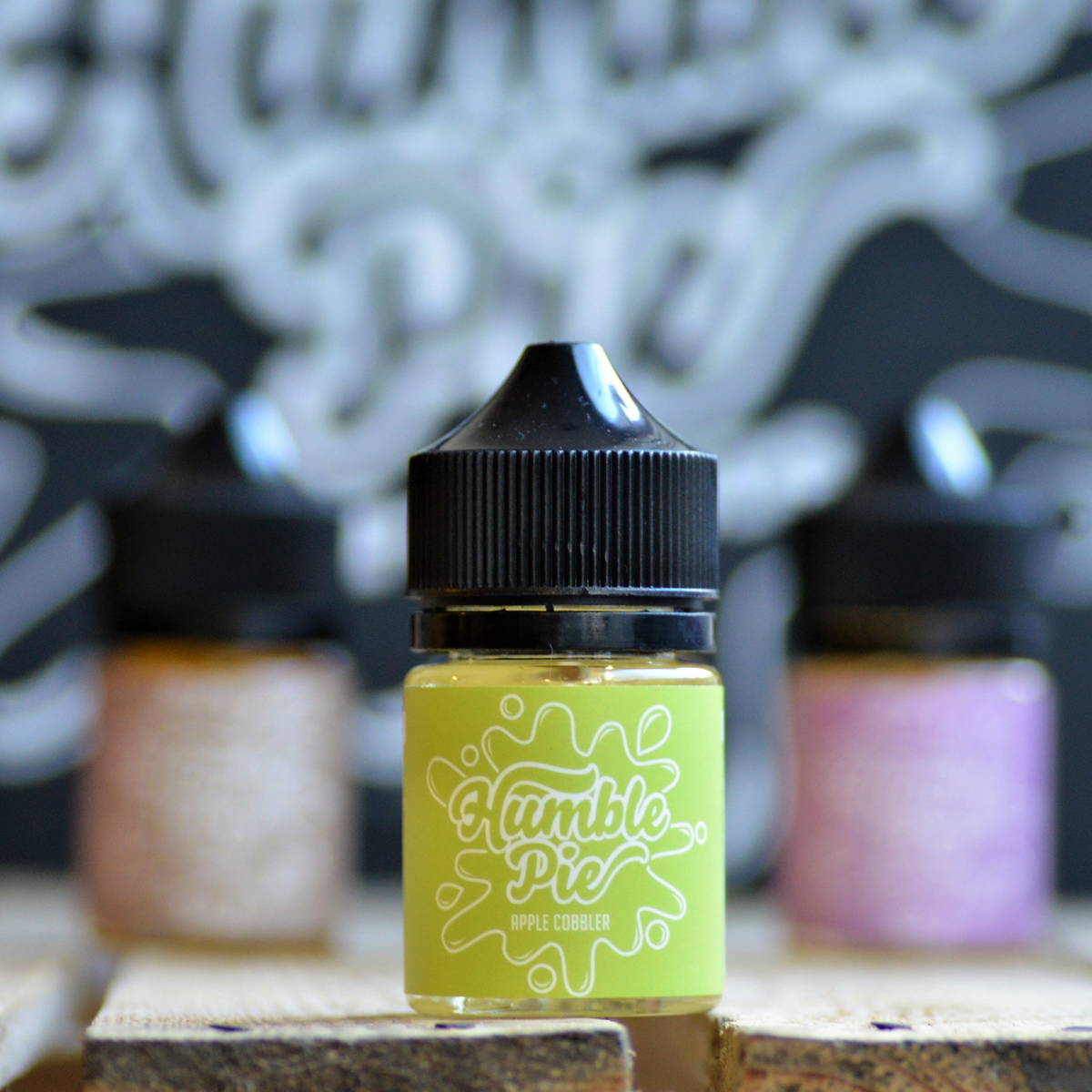 Every family has at least one secret recipe, carefully handed down from generation to generation, and an Apple Pie pudding is bound to feature.
Apple Cobbler from the Humble Pie range taste like we'd imagine every Grandmas apple crumble and home made custard should taste as a vape.
It smells delicious,straight from the bottle, and smells even better once its been warmed on some coils.
Sweet apples and cinnamon come through first on the inhale, we know cinnamon seems to have a love it or hate it appeal, but it's a subtle delicate back note, that adds a warm sweet spice. Then the crumbly biscuit with custard builds and lingers which rounds everything off beautifully.
---
Lemon Tart flavoured vapes have been around a while, so we doff our caps to the Humble Pie gang for their courage, conviction and excellent execution.
Their Lemon Tart is as close to the real thing as you could hope for in a vape.
Similar to Apple Cobbler, Humble Pies Lemon Tart base of crumbly biscuit is superb. You can almost taste the crunch (sounds like a stretch, I know) but every layer from the sugar to buttery biscuit, seems to stand out whilst being brilliantly balanced.
The Lemon part, it's light, sweet but not overpowering, with a tiny hint of sour, maybe to keep the sweet in check.
The lemon hangs on the after taste, almost seeming to gradually build with each vape, but not to the point were you feel you've had to much of a good thing
and that biscuit is always present rounding everything exceedingly well.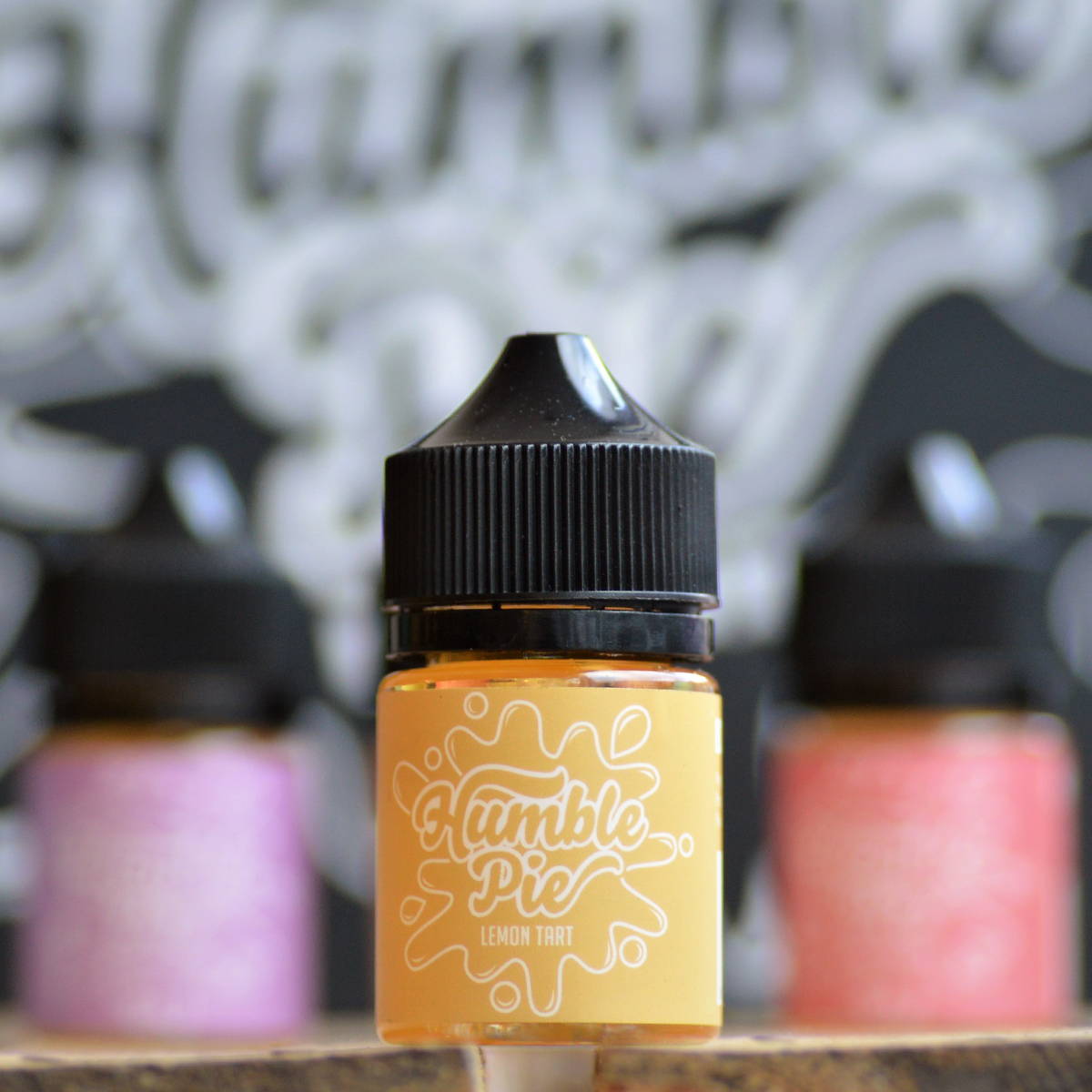 ---
Tiramisu from Humble Pie is probably them just showing off their mixing mastery, and hats doffed again as they have nailed it.
Tiramisu is the most complex of flavour profiles in the Humble Pie range as it has so many layers, and you can identify all of them!
The coffee is the main aroma, but you can pick out the Marsala and coco dusting, just from a sniff.
The coffee will be the first flavour you get so if coffee isn't your thing, this may be a no no, it's a rich, strong, almost espresso style coffee,
almost instantly followed by a deep creaminess, sponge and a gorgeous sweet marsala note.
It's a grower, the more you vape it, the more the coffee, cream, sponge and that gentle boozy undertone take over.
As it is a multi layered vape with coffee as the strongest notes, it might mean its not an all day favourite, but I can imagine having a this a staple after dinner go to.
---
Tastes are completely individual and unique to all of us, but having said that, I think we've saved the best to till last... but that is only my "humble" opinion
Humble Pie have flexed their mixology skills again as you can pin point every layer.
Danish Custard is up there with the best of custard vapes. Yep, sorry, I'm one of those die hard custard fans, and this might not be one for the purists, as it is not a straight custard.
The smell is identical to a danish swirl, and vaping it is as good eating one. maybe better as you won't have to worry about bits of tell tell flaky pastry everywhere.
You'll get a heady mix of sugar glazed pastry, with a similar hint of cinnamon as Apple Cobbler, and it builds up to and leads beautifully into Humbles Pies rich glorious custard base. It is so moreish and gets better with every vape.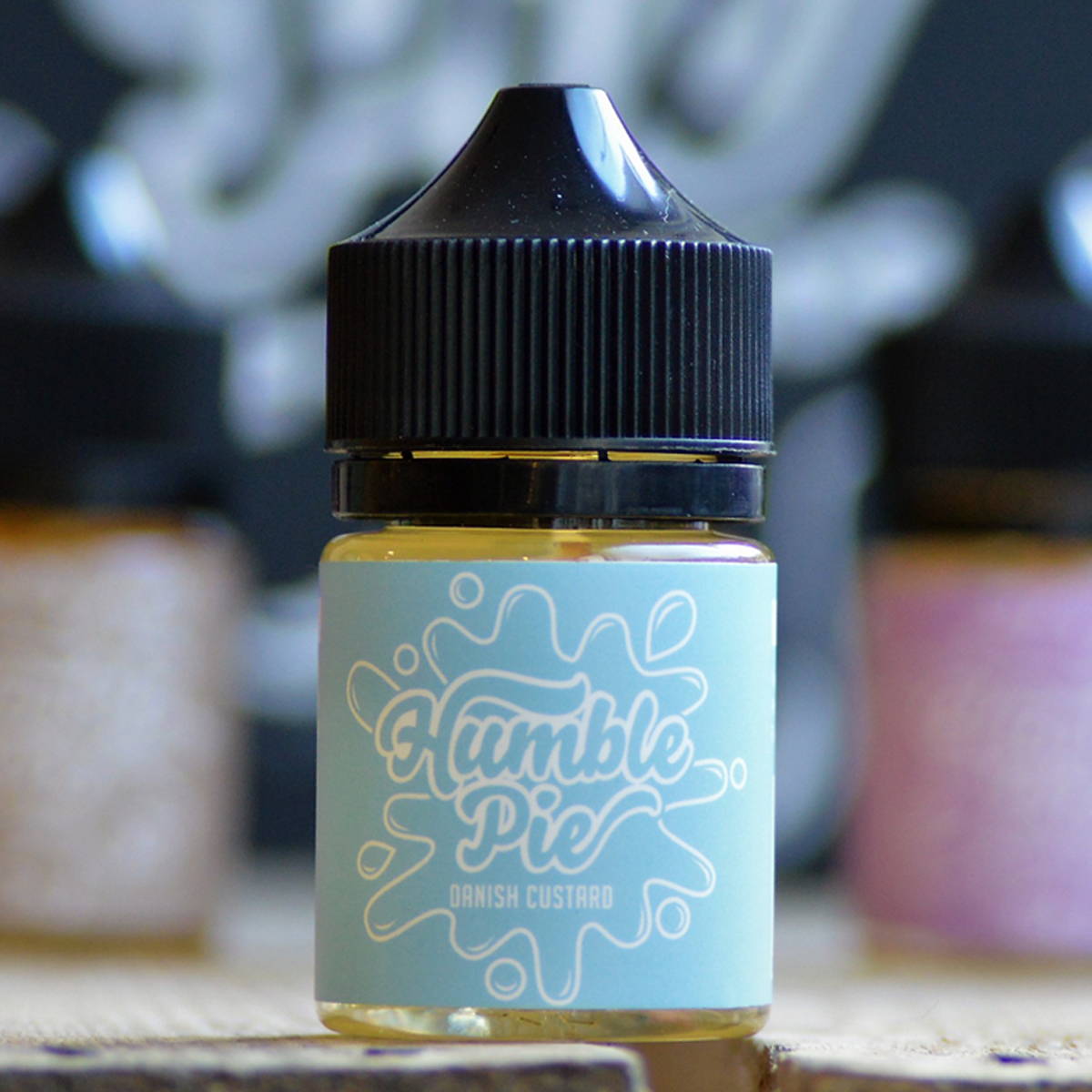 ---
Ever since the dawn of vaping there has been throwback nostalgia surrounding the flavours and smells of e liquids, and what they all remind of us.
#Humble Pie will have you reminiscing about knock down ginger, kiss chase, short shorts and grazed knees in next to no time.
---